Company Details:
Select from the Menu: Settings and Company Details. Add your company details. These details appear on your system documentation (Delivery Dockets, Purchase Orders)
Add your website link address as shown and attach a pdf brochure or informational document eg Seasonal Guide. This then shows on your customers app in the Links page.
The Customer Web Module Url is to link your website to the customer order portal. Your website manager can create a Login button and link for customers to use if they wish to order online rather than through their phones.

Email Settings
Your system will automatically send a confirmation email to every customer who places an order through their app or through the online login.
What email address are you using to send mail? Your system will send a copy of the order to you by email. This is a back up system rarely called upon. It's a good idea to create an email address to receive these orders and clean them out periodically.
Enter this email address into the Confirmation Email Recipients box. This
feature can also be turned off in the yes/no box.
The Email Admin if Customer add an item to their list option is generally only used by companies who fix pricing of every item for every customer. The default position is off.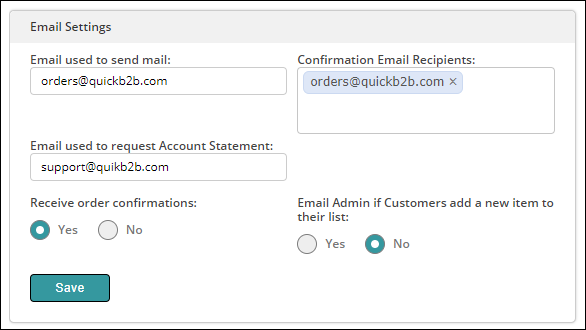 Other Settings
Show Profit Margin is per order. This enables you to check your profit margin on an order-by-order basis. Great for ensuring your bottom line is taken care of on an order-by-order basis. Only Super Admins and Administrators can see profit margins.
Show Stock Module is for companies wishing to use the Inventory Stock Module. We recommend leaving this as 'No' until you are familiar with the order management system.

Global Payment Terms
This sets the default payment terms in the system for all customers. However this can be customised on a customer by customer basis if a different payment term is required.
To activate a different individuals payment setting other than the default, go to Manage Customers, click on the business name and click on edit.
Go to payment terms and select Custom.
Then select the options from the drop list
Remember to click the SAVE button after any changes.
Time Zone Settings
Select and set the time zone your business resides in so the date and time stamp on current orders is correct. Its important to select the correct UTC time zone.
If you dont know what time zone you are in go to https://www.timeanddate.com/time/map