Customers fixed price items can now have an expiry date applied to them.
It will give you more control over pricing and the duration of the fixed price that is applied. Each item within a customers product list can have its own expiry date. To set a fixed item expiry date see the following instructions.
Navigate to

Customers/Mange Customers

Select the customer

you want to set fixed price expiry dates for

Click on the Edit

button

In the

Fix Price column,

select the box

next to the item you want to set the expiry date
The sell price from the assigned customers price list will display along with a calendar
Enter a fixed price

Click on the calendar

and

select the date

you want the fixed price to expire.
Click

Save Changes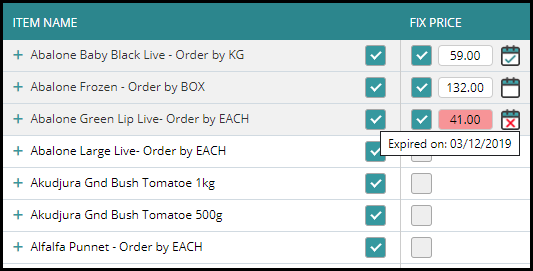 At midnight of the expiry date, the fixed price will no longer be applied and the price will revert to the price of that item in the customers assigned price list.
NOTE: When a fixed price expires, the expired fixed price value will still be displayed in the red text box. However the cost price will be the price in the customers assigned price list. Not the expired price
---
The three calendar icons represent the following
No expiry date set

An expiry date has been applied, hovering your mouse over this icon will show the date selected
Fixed price has expired, , hovering your mouse over this icon will show the date the fixed price expired
---
To add further functionality to the fixed price expiry dates, we are currently developing a reports page to display what customers fixed price items will expiring and or have expired.