Customers can be added manually if required by navigating to Customers/ add customer.
If your customers exist in Xero then the simplest way to import them into QuickB2B is to click on Settings/ Import Xero Settings.
STEP 1. Click on Import Customers and follow the prompts. After importing customers, you will need to edit your customers.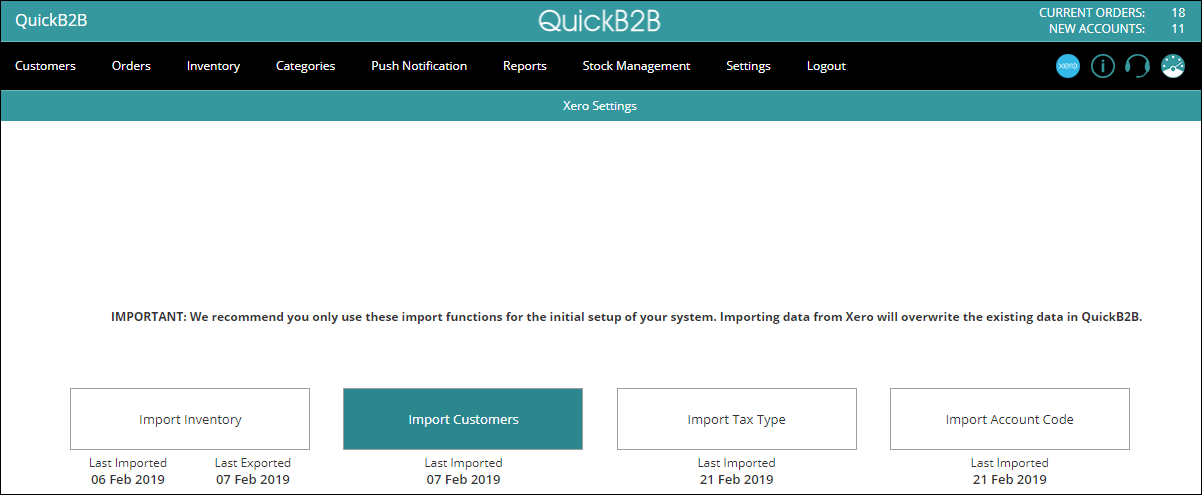 NOTE: If your Xero has not been fully setup and has no customers, you will need to populate or enter them into Xero. They can be imported into Xero by using our Xero formatted csv. Download the template from the menu – Customers/ Import/Export option. Populate the csv with your data then save it to yourcomputer. Now log into Xero and navigate to Contacts/ Customers. Click on the import button and follow the prompts. Once the customers have been entered into Xero go to step 1 above and import them into QuickB2B using the Import Xero Settings
Please ensure that each customer/ location has a unique email address. The unique field for each customer is the email address. The system won't upload details of customers with duplicate emails.
Once the upload is complete all new customers will be in the system and have a status of New.  They will not be sent any login details until you change the customers' status to 'Active' on the manage customer/ customers page. Once you change the status to 'Active' a welcome email with their login details will be sent.
IMPORTANT: Always ensure that the customer details in the QuikSys admin are identical to the customer details in your accounting software. Otherwise duplications of customer accounts may occur.