Import Inventory
Inventory can be imported via the Import Xero Settings. Navigate to Setting Import Xero Settings as shown here or via the menu option of Inventory/ Import/Export.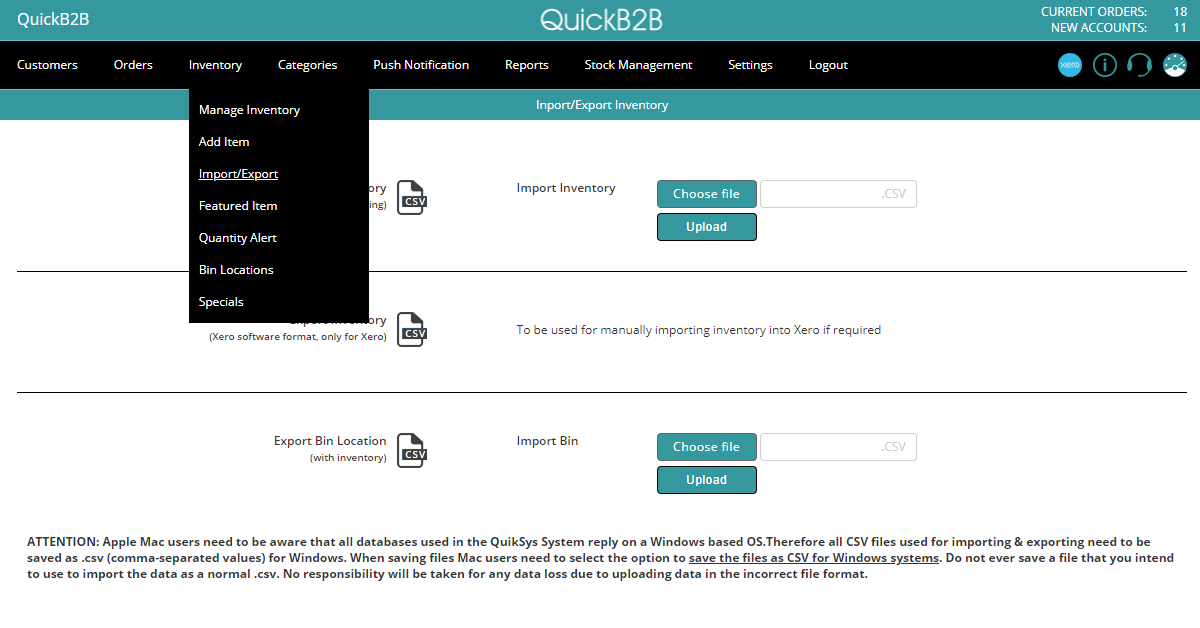 Export Inventory
Inventory can also be exported for editing before re-importing.
Select the option to Export Inventory (with all pricing, used for importing). Note: Apple Mac users should take careful note of the warning on this page.
There are two options for exporting. 
– Xero software format, only for Xero- exports the inventory so it can be imported into Xero. 
– With all pricing, use it for importing – exports the inventory so you can add or edit items and import it back into the QuikSys System.
Both are csv files and shoudl be saved after editing in the same format
Editing Imported Inventory:
Many of the inventory items that come from Xero may not be inventory and therefore items you want to appear in your app. All inventory items in your QB2B system appear in the inventory shown in your customer phone apps so it's important to remove the non-inventory items and clear up the inventory item names.
Your inventory can be exported from of your Xero and the data copied into the inventory.csv file supplied by QuickB2B, edited, then uploaded to you QuickB2B Account.
When adding inventory items, the following rules should be followed:
All

Item Codes should be unique

, and duplicates should not exist
All

Item Names

should include how the item should be sold. e.g: Apples Red /kg; Apples Red /each; Apples Red /box and should appear how a customer will look them up. For instance, a customer will look up Apples Red rather than Red Apples.
The

Purchases Description

&

Sales Description

should be identical to the Item Name field. All Item Names in the Sales Description column should be kept to a maximum of 50 characters. This is the maximum number of characters Xero API will accept.
Purchases Account

&

Sales Account

codes need to be identical to the codes used in your accounting software and as shown in Settings and Admin Settings and

Tax Rates

should also reflect the description from your accounting software i.e. GST Free Income
Filter types

can be entered if the filter types have been created in the admin setting/

Filter Type Available

. Filter types are used to add attributes to items so when you send price lists to customer you can select what type of filter type product you want to include.
e.g. You may only want to send a price list of all items that are sold by the box. Or items sold in punnets or tray etc.