This page shows details of your customers and their suburb at a glance. Functions on this page include adding outlets, change status, view, & delete.

You can edit customer details by clicking on their company name.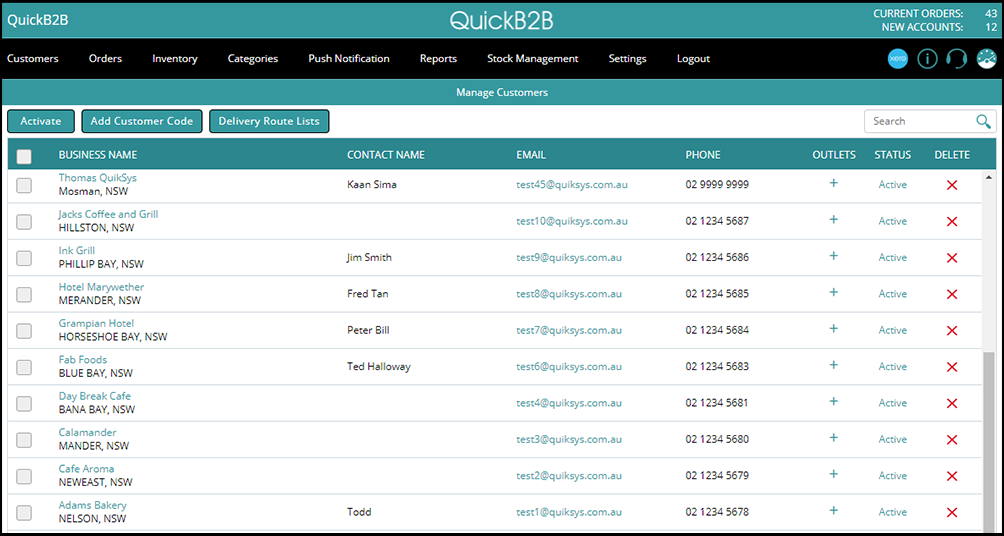 Clicking on the Company Name will show all the customer details including Business details, delivery address, customer settings, the products they see in their app and any fixed price items that apply to the customer.
Click on the EDIT button to change company details etc. Select the Price Tier, Delivery Route and Rep Name (if utilized). This Rep Name field can be used to group customers into sales groups for reporting purposes.
Note: At this point you can also add items to the customers list and this will show when they open their app. You can also apply fixed pricing. As shown.
Remember to hit SAVE.
Edit a Customer
Edit: This function allows you to edit all the customer details and settings.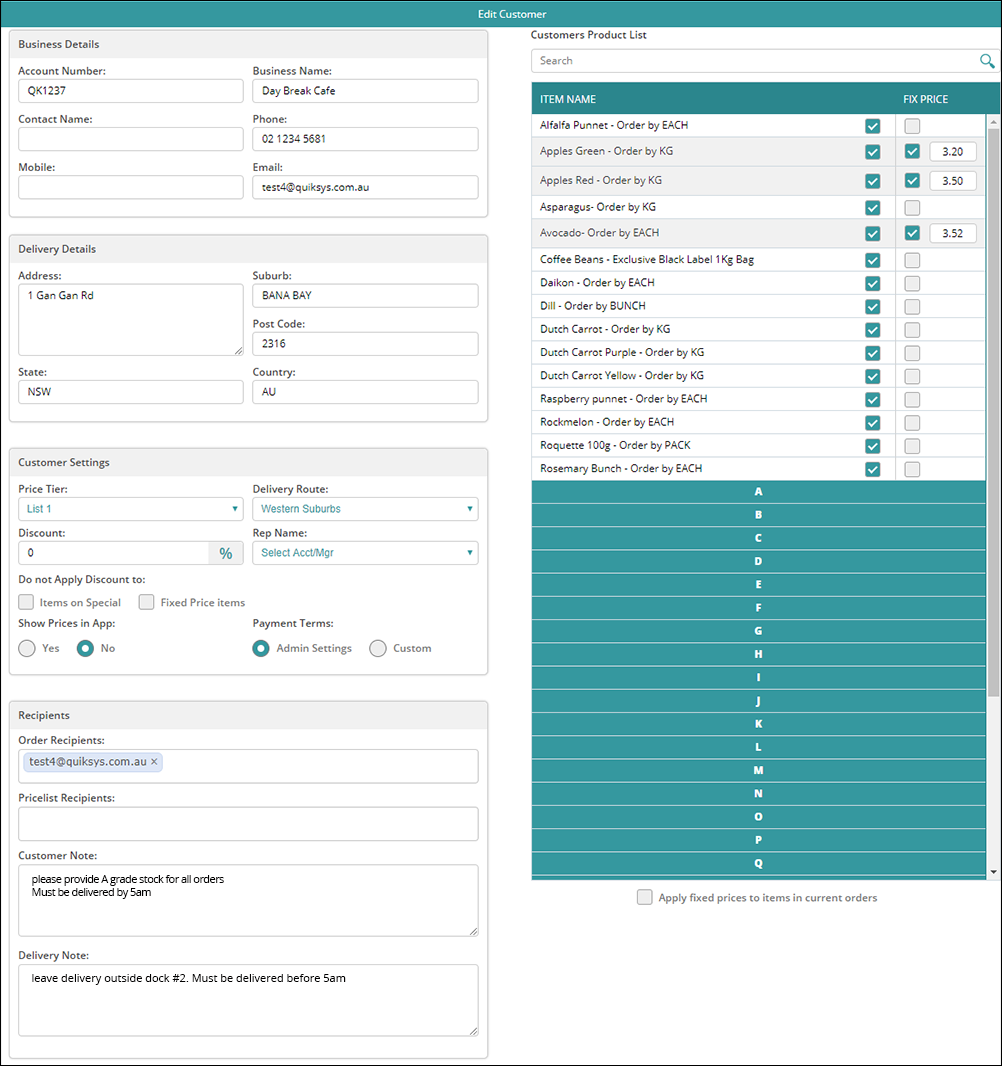 The Customer Code is an optional field and is not a required Xero field however Xero may make this a matching field in future updates.
The Email address is used to login to the phone app and customer order portal page. It's also the email address used to send order confirmations. It's the primary email address and must be unique.
Order recipients are the email addresses used for order confirmations and are additional to the primary email address. Multiple emails can be used to send order confirmations to various departments. To add an email
address simply click in the text box add an email address and hit enter on the keyboard.
Pricelist Recipients are used the same as order recipients but are sent pricelists.
Customer Notes: are used by admin to add any comments about the customer; these notes can be seen in edit an order by admin but not by the customer. The Customer Notes appear on the picking slips as instruction when picking & packing.
Delivery Notes: are used by admin as instructions to the delivery driver. They would include notes and any instructions in regard to any special delivery requirements. eg: leave delivery at dock #3. or leave delivery under cover etc. The Delivery Notes appear on the Delivery Run Sheets
Customer Tier Price is used to select what price list the customer is allocated. It becomes active as a drop list only if the admin settings enable more than one pricelist.
Customer Discount is the percentage discounted from the customer's order total. It overrides any discount in admin settings. If left blank it will use the default discount that is active in Admin Settings.
Customer Route is used for processing current orders. Each customer can be assigned a delivery route so current orders can be processed in batches per delivery route.
Payment Terms is used to select the amount of days that the invoice is due for payment. This is transferred to Xero when shipped orders are exported. If COD payment is required, then zero (0) should be used.
Customers Product List shows active items in the customers product list on their phone app. These are the items that are normally ordered. If the customer account is created within the admin panel, select the items your customer normally orders. These items will then show up in their 'My Product List' on their phone app when they login. This list can be edited by admin and by the customer via their phone app. Alternatively leave
customers to add their own items to their list through their phone.
Customers Fixed Price Items locks in any special price negotiated with your customer. When you select an item in this list the current sell price, for the Price List they have been allocated too (e.g. price List 1), will appear and it will also become selected in the Customer Product List, on their phones, if not already selected.
You can now edit this price and lock it in by clicking on the SAVE button at the bottom of the list. Once you save the edited price it will not be affected by any price changes you make to the inventory prices.
If you wish to apply the fixed price to the customers' current order, select the tick box to apply new prices in current orders above the save button.
NOTE: If a customer adds new items to their 'My Product List' via their app the new item will not have a fixed price. Also, if the customer removes any item from their list via the app only the item in the Customers My Product List will be removed, and the Customers Fixed Price Item will still show.